Course Distributors:
These organizations are distributors of CERTI courses or offer discounts of CERTI courses to their customers
Course Discounts:
These organizations are measurement device manufacturers.  We are happy to provide their customers with discounts.  For a 15% discount on any course registration – enter the indicated coupon code in the shopping cart when requested.

Femto-TECH, Inc. – www.femto-tech.com
Manufacturer and distributor of continuous radon monitors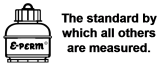 Rad Elec, Inc. – www.radelec.com
Manufacturer and distributor of electret ion chambers
Sun Radon – www.sunradon.com
Manufacturer and distributor of continuous radon monitors